As Willie Nelson sings…
On the road again
Goin' places that I've never been
Seein' things that I may never see again
And I can't wait to get on the road again
I left yesterday from South Carolina and traveled through North Carolina and Virginia. Today I went through West Virginia, Maryland and Pennsylvania. Tomorrow I arrive in Maine. It takes 3 days of driving to arrive in Kennebunkport, Maine for the starting point of the Fantasy RV Grand Tour of the East Coast. Three days up, and 40 days back.
It is my opinion that the federal interstate system is sorely in need of major updates. So many places are still only 2 lanes in each direction, with solid traffic in both lanes consisting mostly of semis. Any hiccup brings everything to a grinding halt. So far, the reward for the worse roads goes to Pennsylvania – their lanes and berms are narrow and full of patches like a quilt . North Carolina is 2nd. There are 4 lanes in South Carolina going into Charlotte, NC but then North Carolina reduces it to 3 lanes, then 2. Then they start adding toll express lanes. Seriously? How greedy.
Yesterday before I even got out of my neighborhood, I heard a loud crash from something falling inside the RV. I forgot to close the bathroom cabinet doors and all my toiletries ended up on the floor.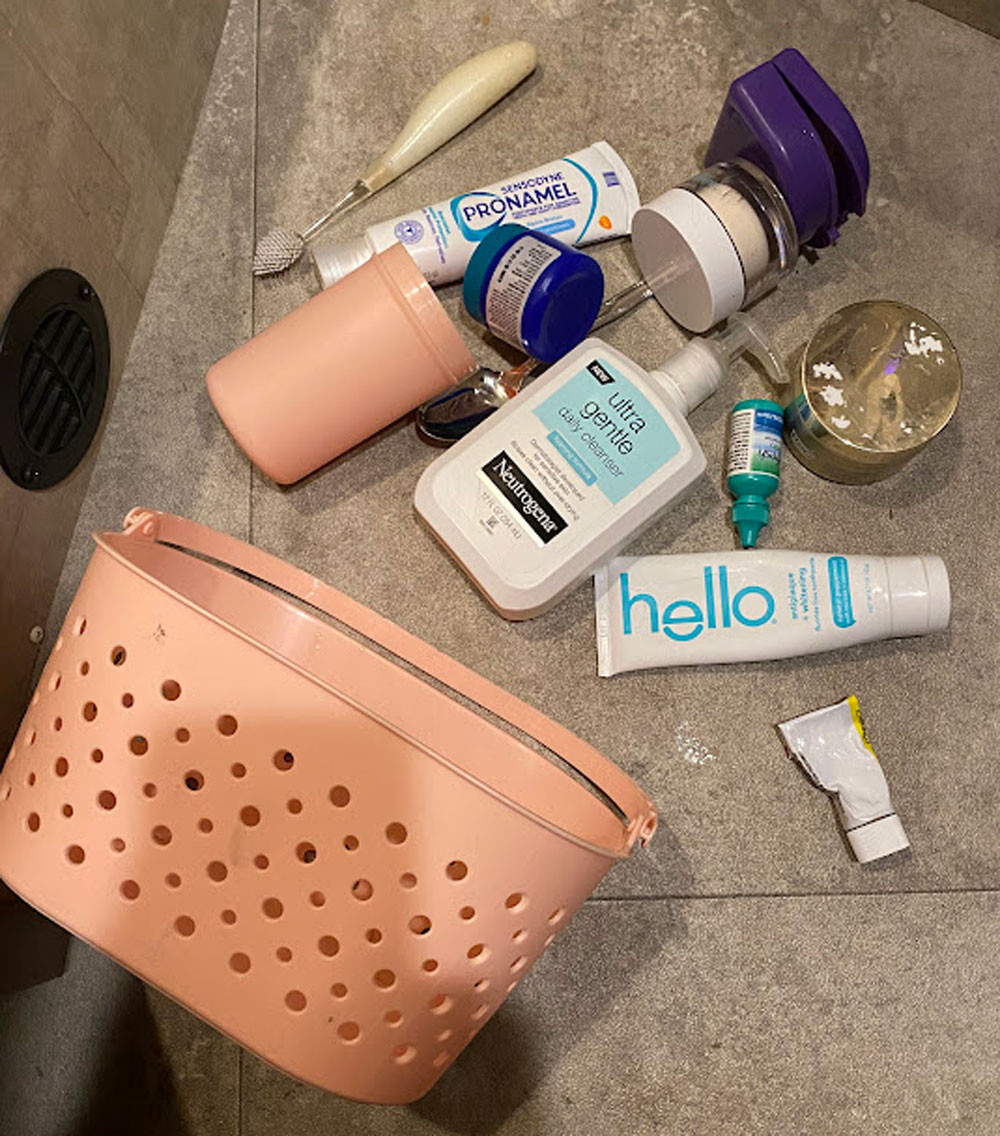 Tonight I'm staying in the Promised Land… state park campground, that is. This place is in the Pocono Mountains, north of  Philadelphia and west of New York City. It is so remote – I drove 30 miles off the interstate on a narrow windy road at 15-30 mph.  Like, who picked this campground?  Oh, I did.  I wonder what when into that thought process.   If you like wilderness, this place has a lot to offer – a lake to fish and boat in, plenty of hiking trails, roads to bicycle on and one bar of reception on your phone. For the record, I did get my bike down and ride it, just so I could justify hauling it all the way there and back. However, lots of places I can't ride my bike because the campgrounds are gravel.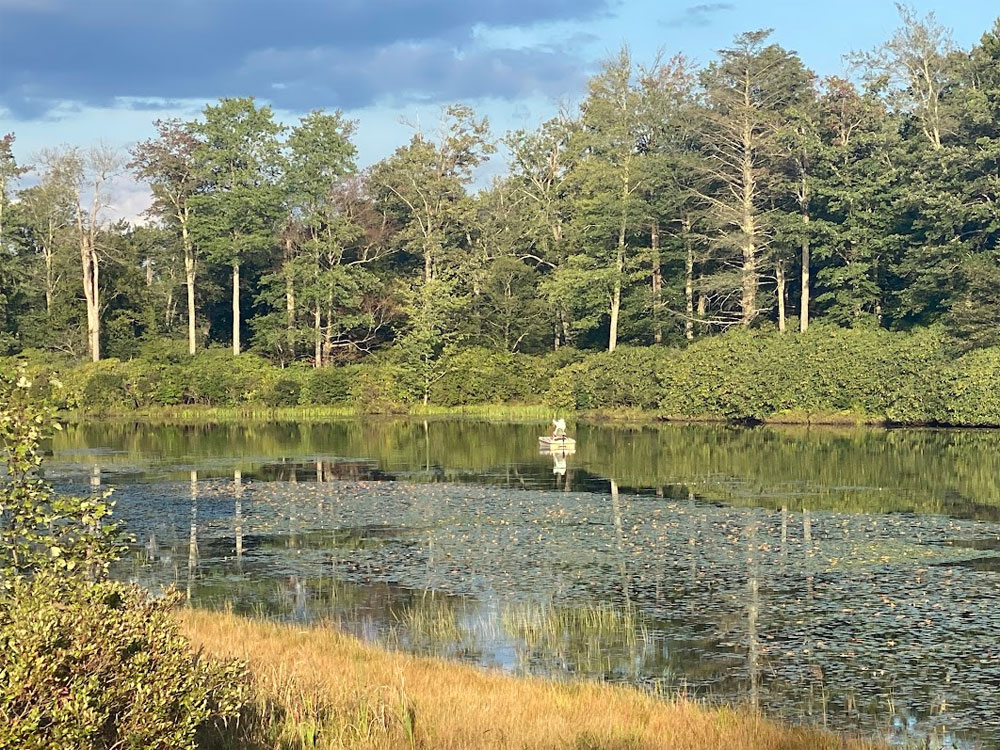 And one last thing, this one is for the kids, or for those of you who wonder what you dump at a "dump station".  At last night's campground, all the signs were created by a local chainsaw artist.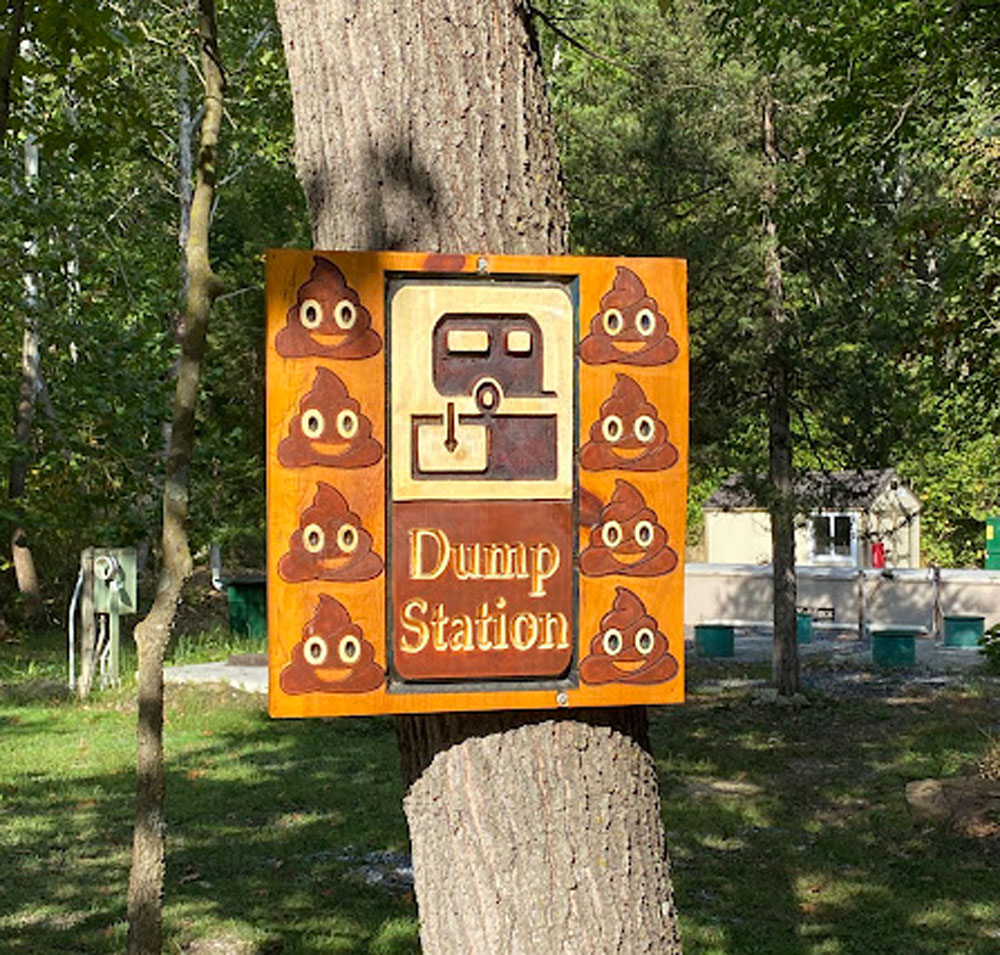 I know it says below that you can leave a reply.  But if you prefer, you can also just privately email me with your comments.